Sponsored Ad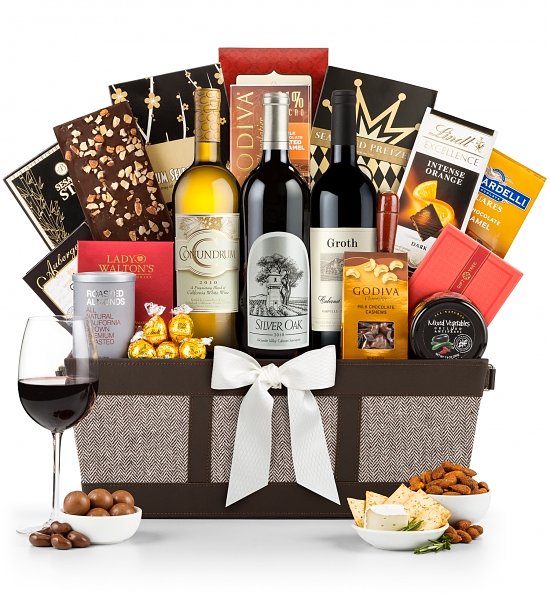 Silver Oak Cabernet Fine Wine Delight
Your choice of Silver Oaks Napa or Alexander Valley Cabernet Sauvignon is the centerpiece of this abundant gift, served side by side with Caymus Conundrum and Groth Cabernet. The three wines are paired with a rich assortment of gourmet sweets and savory snacks, creating a menu that will not soon be forgotten.
See Full Details
Product Reviews

5 out of 5 based on 5 user ratings
Included in this Gift Choose Silver Oak Napa Valley or Alexander Valley Cabernet Sauvignon. One Bottle of Groth Vineyards Cabernet Sauvignon. One Bottle of Caymus Conundrum White Blend. Camembert Cheese, Olive Oil Crostini, Seasoned Cashews. Bourbon Caramels, Churro Almonds, Toffee Popcorn. Godiva, Lindt, Ghirardelli Chocolates and more.

Every Gift Basket is decorated with a solid-color ribbon. Upgrade to personalize with a message! Attached Card with Your Personal Message. Securely Arranged to Protect During Shipping. Personalize It! Upgrade and add a message to ribbon - specify at checkout! Gift Basket Dimensions Measures 16' x 13' x 7'.
SKU: GITR-7471-SW2018-03-04
---
Sponsored Ad